Muslin blankets, popular, but what's the difference?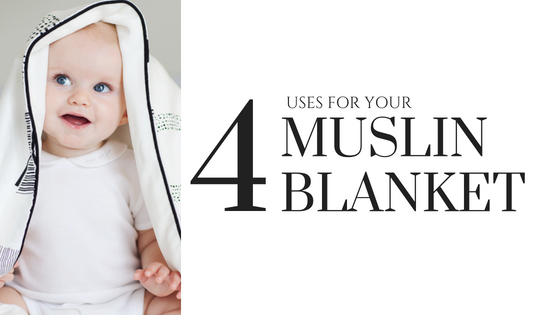 In today's market for newborn products, there are countless of options to choose from. Some are just fun to have while others have been a necessity for generations. One item that will always be an essential: a blanket. A blanket is the first item that will likely belong to a newborn. From the moment when they are first wrapped at the hospital to being tucked into their first big kid bed, a blanket will be a constant necessity throughout the years.
The variety of choices for blankets is endless. Between the fabric, color and weight, it can be difficult to determine which will best fit your needs as a new mother. The increasingly popular Muslin blankets stand out amongst the competition, and for good reason. Dono & Dono's Light Muslin Cotton Blanket rethinks the traditional blanket to serve as a multi-use blanket that both you and baby will constantly be drawn to.
The design of the muslin blanket sets it aside from others, making the blanket more gentle than ever. The 100 percent premium cotton muslin fabric is soft on skin, moisture wicking, deodorizing and blocks out harmful UV rays. The fabric is treated with an all-natural bamboo processing which helps inhibit bacterial growth. What makes the Dono & Dono print unique is the black and white design which makes simple, high contrasting images easy to see for your baby's developing eyes. To top things off, it's durable and machine washable — what could be better?
While the Muslin blanket is perfect for cuddling and keeping your little one warm, it serves multiple purposes making it the perfect go-to. Here are a few of our favorite uses for the Dono & Dono Muslin Cuddle Blanket:
Stroller Cover: Coverage is key for the summertime! Utilizing your muslin blanket as a breathable stroller cover will help keep your baby cool and protected from harsh UV rays. It can also help provide a distraction-free sleeping spot in the stroller by eliminating outside interruption. Easily packable, the muslin blanket fits nicely in a diaper bag and might just become an errand or walk favorite.
Swaddle: There is something so soothing to a baby about the comfort of a swaddle. The muslin blanket was designed to keep little onse wrapped snugly, and swaddling can help reduce crying and promote a difference between day and night. Wrapping your baby in the muslin blanket will help them feel secure and cozy without potentially making them too warm. The deodorized, cotton fabric is gentle on your baby's skin throughout their sleep, too.
Feeding Cover: Looking for a light, breathable fabric to use as a nursing cover? The muslin blanket can do the trick. Whether you're out and about or in the comfort of your own home, the muslin blanket is large enough to provide enough privacy to make both you and your baby comfortable without the threat of overheating. Pack the blanket in the stroller before heading out and it can serve as a feeding cover, blanket and stroller cover all in one trip.
Oversized Burp Cloth: Burping can be a messy duty, and the muslin blanket is large enough to create coverage to help avoid you from being the victim. With a machine washable and durable fabric, the muslin blanket is easy to clean and grab in a moment's notice. Using the blanket as an oversized burp cloth is also great for travelling and avoiding messes on-the-go.
The versatility of the Dono & Dono Muslin Cuddle Blanket makes it both functional and comfortable for any of your motherhood needs. There are endless uses for the muslin blanket, and the soft and lasting fabric will become your go-to necessity for outings and at home.
What are your favorite uses for the the Dono & Dono Muslin Cuddle Blanket?