Valentine's Day Gifts for Babies and Toddlers
Valentine's Day is just a few short weeks away! While this is an ideal day for parents to spend some alone time without kiddos in tow and have a much-needed date night, it is also a great opportunity to teach your little one all about romance. Starting them young (yes, baby-young!) by showing them how to treat the one you love, especially by example, will shape all of their relationships for the future. Doing nice things, saying sweet compliments and giving great gifts are all simple ways to show love that you can start teaching now. Kids want to be involved in absolutely everything, and this may even include your Valentine's Day plans. Figuring out a way to get your little one involved, especially on a day that is typically reserved for your partner, can be tricky. Make a craft. This can be something as simple as a heart-shaped card for Mom or Dad. If they are too young to make something yet, a great craft can be a footprint card, or even letting them free-paint something with red and pink paint. Get a gift. Another great idea is to get them a gift to make them excited for Valentine's Day going forward! If you need some ideas for what to get your baby or toddler for Valentine's Day, we've put together a handy shopping list for you. Read on!
What to Give Your Baby or Toddler for Valentine's Day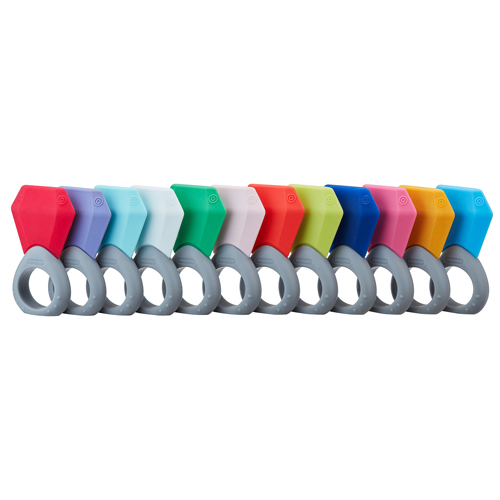 Celebrate your baby's birthday everyday of the year with our Birthstone Ring Teethers! Teething can be a difficult milestone in a baby's life and when baby is in pain, so are you. Soothe your infant's aching gums with our 100% silicone and BPA free Birthstone Teething Ring! Featuring smooth, rounded edges and a bendable design, our Teething Ring soothes sensitive gums and even those hard to reach molars. The easy to grip handle means less frustration for baby and more relief from the pains of teething. Available in a wide array of vibrant colors representing your child's unique birth month, they are also easy to clean. Our Birthstone Teething Ring is top rack dishwasher safe! Our Ring Teether doesn't just soothe aching gums, it also stimulates muscles of the lips, tongue, and cheeks to improve oral motor skills. Research shows that improving those skills helps with nursing as well as developing proper muscles for eating solids and drinking liquids with a cup. It can also even help with speech! They are available in January Garnet, February Amethyst, March Aquamarine, April Diamond, May Emerald, June Alexandrite, July Ruby, August Peridot, September Sapphire, October Tourmaline, November Citrine and December Blue Topaz. Our Teethin' Smart 100% silicone teething toys stimulate oral development and feature lightweight, durable, easy to clean designs. Most importantly, they are safe for your child. They adhere to the highest standards in safety - Toy Safety Standard ASTM F963 and EN71 - and are BPA-, phthalate-, PVC-, latex- and lead- free. Not to mention, it was also the winner of the 2018 National Parenting Products Award!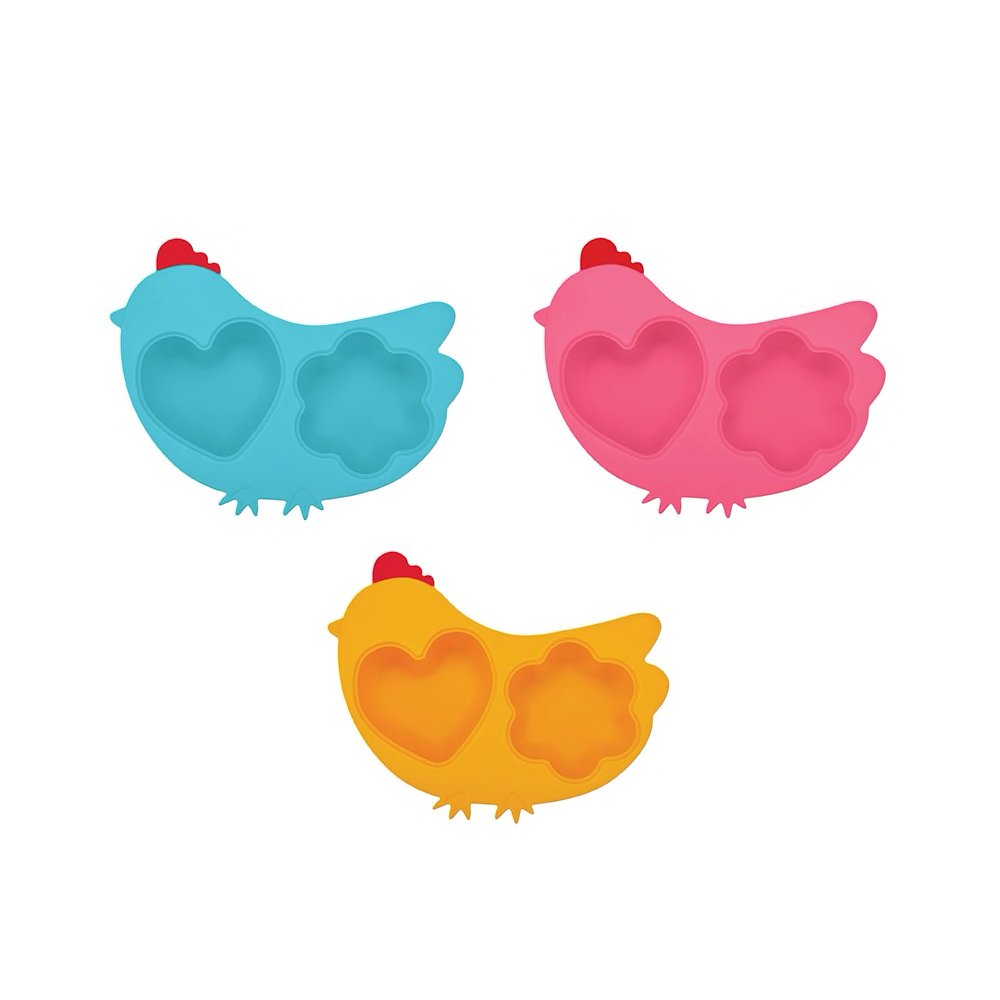 Make them a special Valentine's Day dinner with this fun steamer! It also helps picky eaters if the way food looks or feels is an issue for your little one. You both can create kid-friendly foods in fun shapes with the Din Din Smart Silicone Chicken Steamer! Quickly and easily steam vegetables or eggs in the microwave, create fun shaped jello treats, or even use it in the oven to bake mini cupcakes. The chicken-shaped sectioned steamer helps create variety and encourage healthy eating from a young age. Not to mention, the ventilated silicone lid included. They are easy to clean, and the BPA free silicone is naturally odor and mold resistant, durable and can be boiled for deep cleaning. They are also microwave, oven, and dishwasher safe. The two compartments are also perfect for veggies and dip, and uneaten snacks can be kept cold and fresh in the refrigerator. It's a must-have for picky eaters!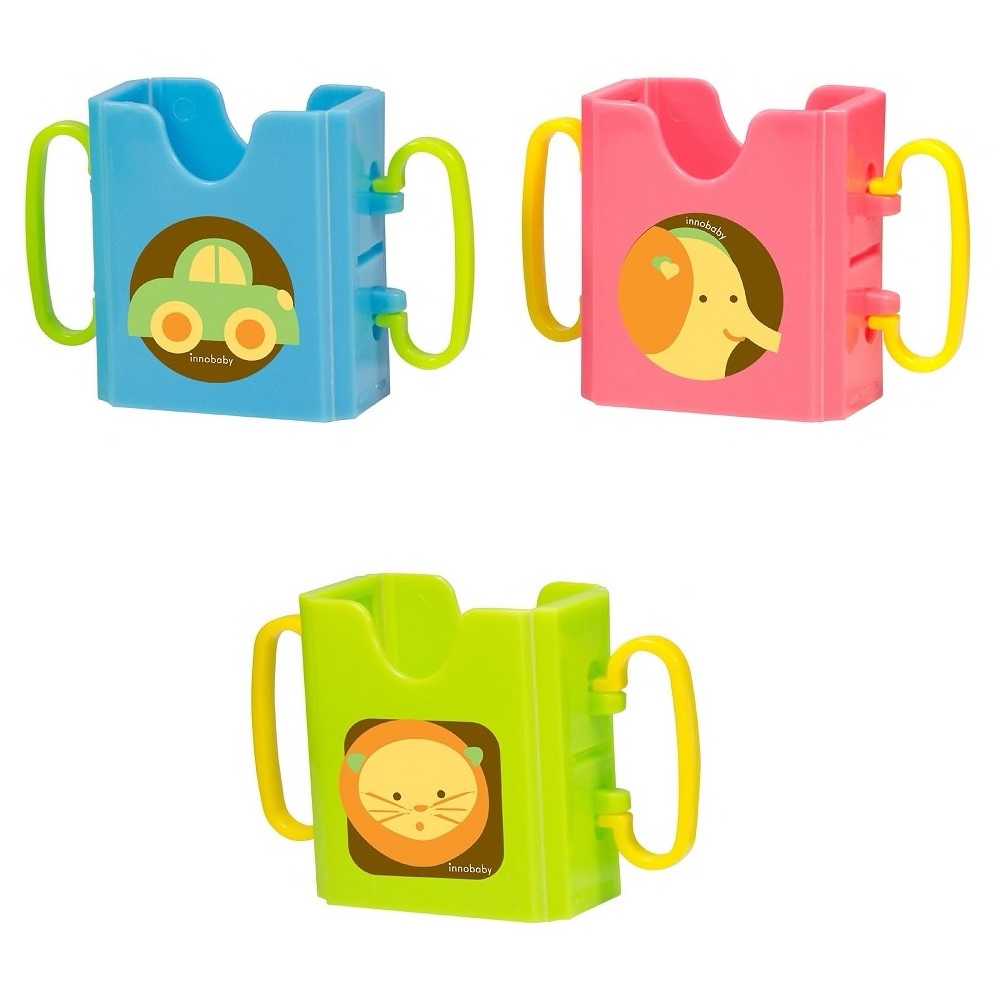 Your little one will love this! Our innovative Sippin' Smart Juice Box Holder makes any drink fun to hold! It also prevents kids from squeezing their juice box, resulting in a spilled drinks and soiled clothes. Uniquely designed, it expands and adjusts to hold a number of different beverages including juice boxes, mini water bottles, milk cartons, and juice pouches. Our Juice Box Holder folds flat when not in use, which makes it great for storage and convenient to take on the go. The fold-down handles are easy to grip and perfectly sized for little hands. Bonus feature: our juice box holder includes a place to write your child's name, which makes it perfect for daycare and play dates. They are top rack dishwasher safe, and are made of BPA which makes it phthalates, PVC and lead free.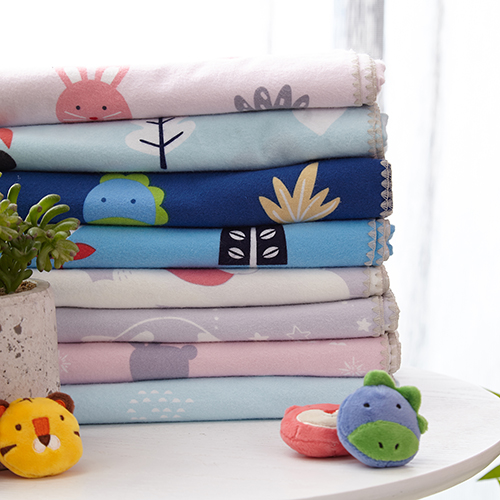 8 designs Your little one loves nothing more than hanging out with you, so have an awesome cuddle session this Valentine's Day with our adorable Milo&Gabby Flannel Cuddle Blanket! Made out of super soft brushed cotton flannel and in 8 adorable designs, it makes a great all-seasons blanket. Use it on-the-go as a lightweight stroller blanket, a comfy naptime blanket, or even a swaddle blanket. Generously sized, it measures 41" x 41" and features our exclusive Milo&Gabby characters. Not only is our Flannel Cuddle Blanket adorable, it also provides a safer sleeping environment for your child thanks to our innovative Green Tea Extract processing. By incorporating Green Tea extracts in our fibers, it creates a fabric that is antibacterial, deodorizing, and allergy friendly without the use of harmful chemicals. Each Flannel Cuddle Blanket even features an adorable mini-stuffed Milo & Gabby friend attached as a bonus gift - two in one!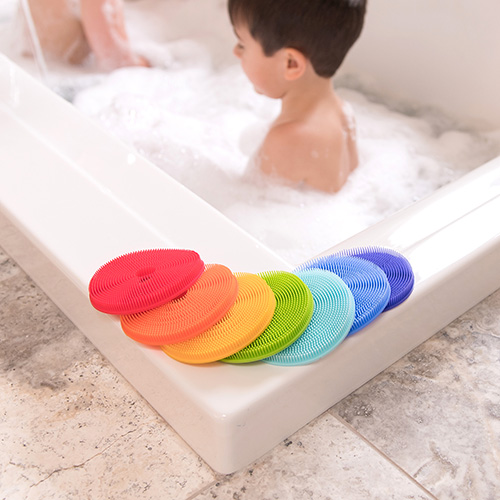 Introduce your child to the fascinating colors of the rainbow, while encouraging bath time fun with our Rainbow Spots silicone bath toy! Your child can count, stack, lather and even stick their Rainbow Spots to the side of the bathtub or shower door, with no adhesive required! Our product testers loved sticking the flat soapy side to the tub wall and to watch them race to see which one makes it to the water first! Best of all silicone is naturally odor and mildew resistant, and can be sterilized for a deep cleaning. Each Rainbow Spots comes with 7 brightly colored discs, use with your favorite body wash to create a soothing lather and therapeutic massage. Each disc is made in South Korea and are a fun and mess free way to learn about the vibrant colors of the rainbow, while encouraging a healthy bathtime routine. The 100% silicone construction makes them resistant to mold and mildew, plus they are dishwasher safe. For an even deeper clean, soak in boiling water for 15 seconds. Rainbow Spots are easy to grip and manipulate, helping your child learn to bathe independently while aiding in the development of fine motor skills, and also makes a great sensory toy! It's quiet, soft, and sensory stimulating, and won't stick to or damage any surface like other messy fidget toys.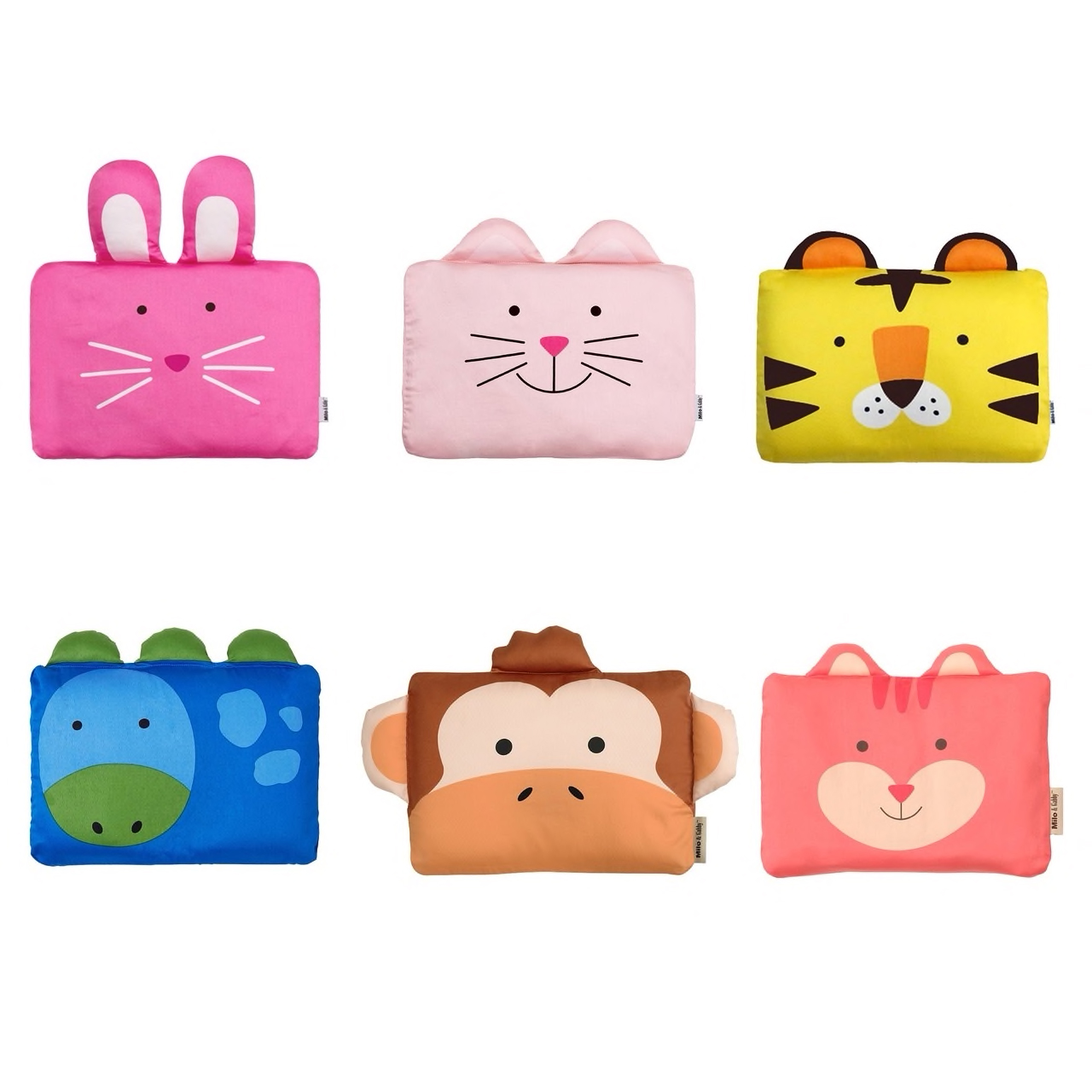 Stuck on what to get your little one for Valentine's Day? Give their bedroom a little refresh! The original Milo&Gabby's animal-shaped pillowcases are sure to capture your little one's heart and imagination. Made with ultra-soft 320-thread count sateen cotton and in 6 adorable patterns, your baby will have sweet dreams with this pillow friend by their side. Sized just right for your growing baby, our pillowcase measures 10" x 13" and is compatible with our 3D Mesh or Charcoal Foam Bead Pillow insert (sold separately). They are also super easy to clean; simply unzip, remove the pillow, and toss the pillowcase in the washing machine. They are 100% Cotton, imported, recommended for ages 3 months and up and are compatible with any 10" x 13" pillow!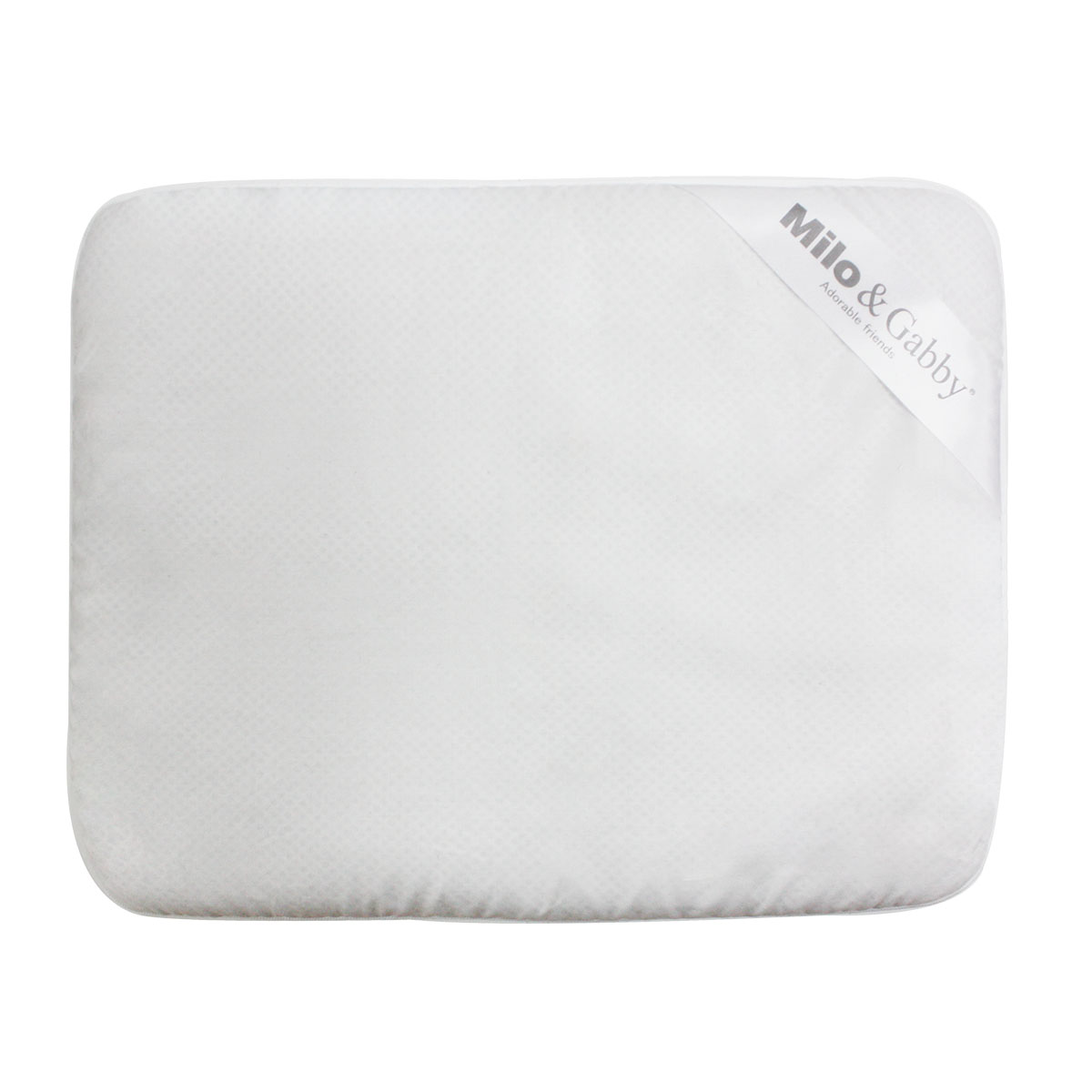 The Milo & Gabby Charcoal Foam Bead Pillow Insert features a soft breathable material that will help keep your baby warm in the winter and cool in the summer. The pillow case is made from high-quality Tencel material, which is hypoallergenic and anti-bacterial, ideal for children with allergies. The flexible pillow design moves and curves with the shape of your baby's head to help prevent your baby from developing flat head syndrome, otherwise known as plagiocephaly. Our full line of Milo & Gabby Original Animal Pillow Case covers are custom sized to fit this pillow! The Charcoal Bead Pillow is machine washable on the gentle cycle in cold water, made in South Korea and are even perfect for practicing tummy time. Our infant-sized pillow is naturally hypoallergenic, mite-resistant, and breathable. Made from 100% Tencel, the pillow cover also offers a safe and natural anti-bacterial surface that is quick drying and soft.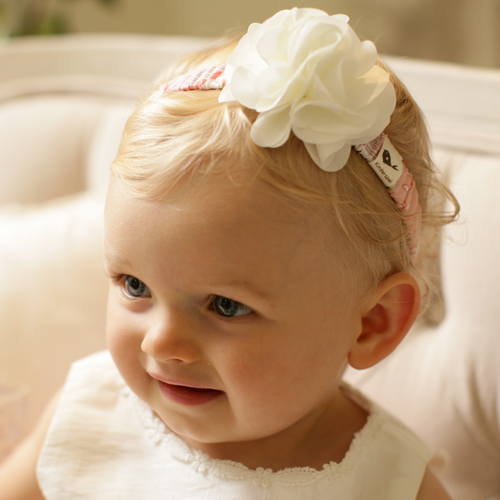 3 patterns Dress your little one up for Valentine's Day this year! Featured in the same patterns as our Flower Walkers, our flower headbands have a 16.5 in non-slip band that is comfortable to wear for extended periods of time. Adorned with a fun, feminine flower, these adorable headbands are the perfect finishing touch to any outfit and essential to any flower bouquet you're giving Mom this year!
Let Us Know!
How do you include your little ones in Valentine's Day celebrations? Do you get them a present? Let us know in the comments below! Happy Valentine's Day!