Favorite Fall Recipes: Applesauce!

One thing that comes to mind when I think of Fall is apples. Golden Delicious, Fuji, Granny Smith, Gala, Pink Lady, Braeburn, Pear Apples, Cortland...so many to choose from!
Apples promote cardiovascular health as part of a low fat, fiber rich diet. One of the most important nutritional components of apples is that they contain two types of fiber: insoluble and soluble. Both the insoluble fiber in apples and their soluble fiber, pectin, help maintain bowel regularity. Other notable health benefits include: helping lower cholesterol, preventing Alzheimer's, strengthening the immune system, and even whitening teeth!
In honor of Fall, I decided to make applesauce using a few different types of apples, and I've shared directions below. Applesauce is great for babies ages 4-6 months but can be enjoyed by the whole family. Try out a few different kinds of apples to see which your family likes best!
The varieties I used were Pear Apple, Braeburn, Gala, and Yellow Golden Delicious.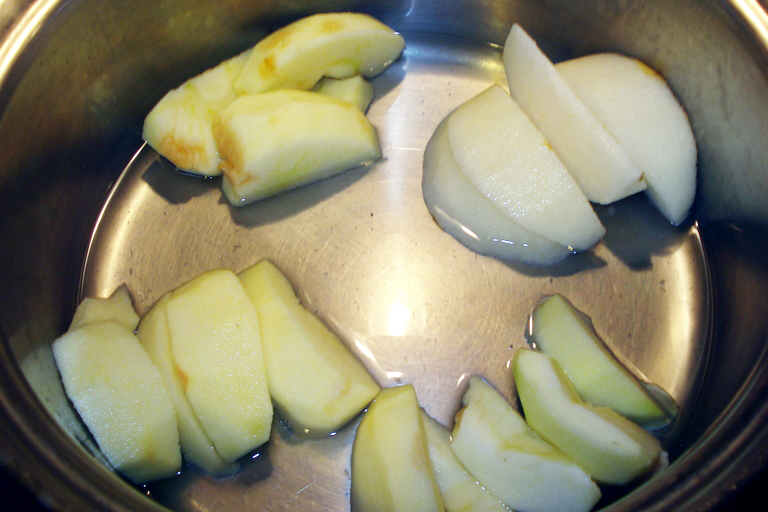 To save time, I placed all the apples in one large pot. Use enough water to cover half of apples. Cover with lid and cook on med/high heat. Once they start to boil, move heat to low and cook for 10 minutes or until tender. (Tip: Use a toothpick to keep the different types of apples together and separate from each other so you can remember which is which!) Use a fork to mash the apples or throw them in the blender for smoother applesauce consistency.
Our favorite........Gala!
Store it, freeze it, take it on-the-go in one of our Packin' Smart!
I even got a cup of apple juice from the cooking water... yum!
How do you like your applesauce? Maybe with a sprinkle of cinnamon or combined with some other fruits? Let us know in the comments! :)
-
Blog Post Contributed by Helen Lee