SAGE POLE
Play Tent / SWEET GARDEN
---
Sagepole Teepee Play Tent
Trying to keep kids busy and entertained at home? Looking for a hideout for all their toys? Sage Pole play tents could be your solution!
The playtime tents are an adorable addition to any playroom all year around while keeping your kids occupied and happy. It also features details your child is sure to love! We created our playtents to last, each teepee is made with sturdy rugged materials like 100% cotton canvas and solid pine poles. Encourage imaginative play with details like an adorable built in window with peek-a-boo flap, tie back door flaps, and an attached floor mat; our teepee tents also make the perfect reading nook!
* EASY TO SET UP: Assemble and spread out the poles and flatten base. The wooden poles (pine tree) slide into slots in the panel and the poles are secured with string. On average, it takes 5-10 minutes to set up with your kids. :)
* EASY TO FOLD AWAY: No need to fuss around to tear it down. Once installed, you can fold it away when not in use by simply lift from the top to fold down. To use, spread out the poles and flatten base.
* ON-THE-GO FRIENDLY: Disassemble the tent and use the canvas bag (included) and take it on-the-go to the grandparents or babysitter's homes. Everything fits in to a compact 35" long canvas bag just like magic. Easy for on-the-go and for storing in a closet or under the bed.
* PREMIUM MATERIALS & CONSTRUCTION: The panels are constructed of one continuous piece, so the patterns are never interrupted and more durable when compared to patch panels that are sewn together. Floor base panel provides stability and clean surface (can be washed) for your child's new favorite play area.
* SAY NO TO UGLY TENTS: Beautifully designed tent boasts vivid colors and unique & modern patterns that will blend in to your room decor. A major plus for parents!
* FUN FUN FUN: Peek-a-boo window is not just a decor! It's a working window that would make playtime so much more fun! Play hide away or peek-a-boo with your little ones and build a lifetime memory together.
* PRIVACY PLEASE: Flap door can be tied back for accessibility. To close, untie the flaps so your little ones can read in quiet settings or make their own little fort for playtime.
* TOY STORAGE: Each night, kids love putting away their favorite toys and stuffed animal in their tents. When they are asleep, untie the privacy door flaps so you can enjoy toy-free living space for the night.
* IT'S SPACIOUS: The pyramid shape tent with four sided panels ensure a spacious interior. It's perfect for a growing family.
* SAFETY FIRST: Passed flammability and ASTM F963 safety standards testing.
Other details:
Intended for ages 3 and up.
Measures 51.2" x 51.2" x 59".
Fabric is 100% cotton
Poles are made with pine wood.
Fabric is machine washable - delicate cycle.
Lay flat to dry.
Imported.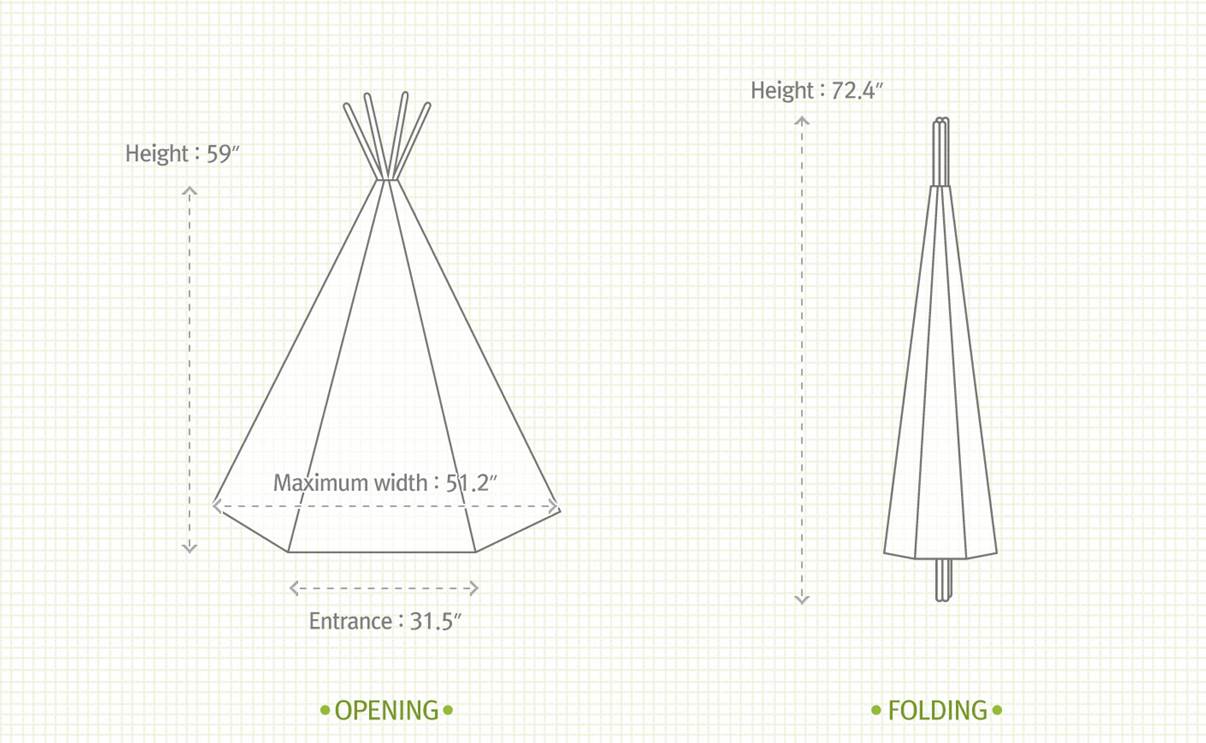 #jolimolibrands #brandrep #ilovejolimoli #sagepole #innobaby #playtent #happycamper
Related Products